Excerpt from Wall & Water Gardens
by Gertrude Jekyll
Many a garden has to be made on a hillside more or less steep. The conditions of such a site naturally suggest some form of terracing, and in connection with a house of modest size and kind, nothing is prettier or pleasanter than all the various ways of terraced treatment that may be practised with the help of dry-walling, that is to say, rough wall-building without mortar, especially where a suitable kind of stone can be had locally. It is well in sharply-sloping
ground to keep the paths as nearly level as may be, whether they are in straight lines or whether they curve in following the natural contour of the ground. Many more beautiful garden-pictures may be made by variety in planting even quite straightly terraced spaces than at first appears possible, and the frequent flights of steps, always beautiful if easy and well proportioned, will be of the greatest value. When steps are built in this kind of rough terracing the almost invariable fault is that they are made too steep and too narrow in the tread.
It is a good rule to make the steps so easy that one can run up and down them, whether of skilled workmanship, as in the present illustration, or rough, as in that at p. 14. There is no reason or excuse for the steep, ugly, and even dangerous steps one so often sees. Unless the paths come too close together on the upper and lower terraces, space for the more easy gradient can be cut away above, and the steps can also be carried out free below ; the ground cut through above being supported by dry-walling at the sides of the steps, and where the steps stand up clear below, their sides being built up free. If for any reason this is difficult or inexpedient, a landing can be built out and the steps carried down sideways instead of up and down the face of the hill. In fact, there is no end to the pretty and interesting ways of using such walling and such groups of steps. Where the stairway cuts through the bank and is lined on each side by the dry-walling, the whole structure becomes a garden of delightful small things. Little Ferns are planted in the joints on the shadier side as the wall goes up, and numbers of small Saxifrages and Stonecrops, Pennywort and Erinus, Corydalis and Sandwort. Then there will be hanging sheets of Aubrietia and Rock Pinks, Iberis and Cerastium, and many another pretty plant that will find a happy home in the cool shelter of the rocky joint. In some regions of the walling Wallflowers and Snapdragons and plants of Thrift can be established; as they ripen their seed it drifts into the openings of other joints, and the seedlings send their roots deep into the bank and along the cool backs of the stones, and make plants of surprising health and vigour that are longer lived than the softer-grown plants in the rich flower-borders.
I doubt if there is any way in which a good quantity of plants, and of bushes of moderate size, can be so well seen and enjoyed as in one of these roughly terraced gardens, for one sees them up and down and in all sorts of ways, and one has a chance of seeing many lovely flowers clear against the sky, and of perhaps catching some sweetly-scented tiny thing like Dianthus fragrance at exactly nose-height and eye-level, and so of enjoying its tender beauty and powerful fragrance in a way that had never before been found possible. Then the beautiful details of structure and marking in such plants as the silvery Saxifrages can never be so well seen as in a wall at the level of the eye or just above or below it ; and plain to see are all the pretty ways these small plants have of seating themselves on projections or nestling into hollows, or creeping over stony surface as does the Balearic Sandwort, or stand- ing like Erinus with its back pressed to the wall in an attitude of soldier-like bolt-uprightness. In place of all this easily attained prettiness how many gardens on sloping ground are disfigured by profitless and quite indefensible steep banks of mown grass! Hardly anything can be so undesirable in a garden. Such banks are unbeautiful, troublesome to mow, and wasteful of spaces that might be full of interest. If there must be a sloping space, and if for any reason there cannot be a dry wall, it is better to plant the slope with low bushy or rambling things ; with creeping Cotoneaster or Japan Honeysuckle, with Ivies or with such bushes as Savin, Pyrus japonica, Cistus, or Berberis; or if it is on a large scale, with the free-growing rambling Roses and double-flowered Brambles. I name these things in preference to the rather over-done Periwinkle and St. Johns-wort, because Periwinkle is troublesome to weed, and soon grows into undesirably tight masses, and the Hypericum, though sometimes of good effect, is extremely monotonous in large masses by itself, and is so ground-greedy that it allows of no companionship.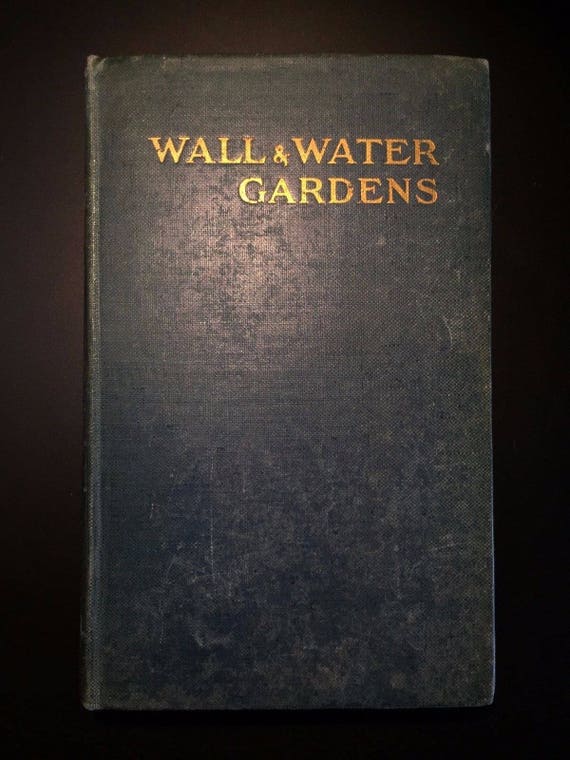 Wall and Water Gardens, Gertrude Jekyll, 4th Ed., Illustrated, c1909, $40.00
Gertrude Jekyll (1843-1932), created some 400 gardens in the UK, Europe and America; her influence on garden design has been pervasive to this day. She spent most of her life in Surrey, England, latterly at Munstead Wood, Godalming. She ran a garden centre there and bred many new plants. Some of her gardens have been faithfully restored, wholly or partly, and can be visited. Godalming Museum has many of her notebooks and copies of all her garden drawings, (compiled and sorted by members of the Surrey Gardens Trust); the original drawings are in the University of California, Berkeley.
Condition:
This book is in good condition. Hardcover. Green canvas with gilt titles. Covers show signs of wear. Interior front hinge is cracked. Book has an ex libris on front endpage. Binding is slightly cocked. Text block is crisp and clean as are all illustrations.